Iguana Removal in Tamarac, FL
If you are having issues with iguanas in your home or commercial property in Tamarac, you have probably witnessed them burrowing in your yard, eating your plants and vegetation, and leaving their waste all over- including your pool and deck.
These reptiles have made Tamarac, Florida their home for many decades due to its tropical weather and an abundance of vegetation that provides them with plenty of food to the point where they have now become a public nuisance wildlife.
So long as there is water, food, and shelter, they will be attracted to make your yard their home.
Call Us Today
When you need iguana removal in Tamarac, FL, calling the experts at Iguana Control is the first step towards obtaining wildlife control services.
We pride ourselves in the way we provide complete solutions to solve any problems you may be having with this nuisance wildlife.
We also provide commercial bird control services, always providing quality service. Schedule an appointment with our Tamarac reptile removal experts today and start enjoying your yard again.
Iguana Removal Services in Tamarac, FL
At Iguana Control we offer all services related to getting rid of your unwanted iguana issues permanently. We firmly believe that the best way to attack this situation is by not allowing these reptiles to enter your property in the first place. From the first time we visit your property, we will survey the land and find all possible hiding places where they may have dug holes to lay their eggs. These holes need to be filled so that they can never be used again.
Additionally, we offer:
Monitoring Services
We will monitor your property and advise on how to maintain trees that are too close to any structure so as not to allow iguanas to have easy access to the roof of your home or office building where they can lay their eggs. We will also suggest what plants need to be removed because they are too attractive for these animals, and which others to add to emit smells they dislike.
Trapping
As mentioned, we much rather opt for preventive measures to avoid this issue. However, if despite your best efforts your Tamarac property still suffers from iguana presence, we will trap these animals and transport them off your property.
Why Do You Need a Tamarac Professional Removal Company?
You may be tempted to address your Tamarac iguana problems on your own. After all, you take care of every maintenance need in your home and this will only be one more task- or will it? The truth is that an iguana can carry diseases such as salmonella and transport other bacteria into your yard.
You do not want to place yourself in the position of allowing these creatures to pass on a disease to your loved ones or attack your pets. Reaching a hand to grab one of them may mean that, although they are not interested in humans and much prefer to eat your vegetation, they will strike when they feel threatened or cornered. They have plenty of sharp teeth and a serrated tail with which they can cause quite a bit of damage.
Let the professionals take care of your nuisance wildlife infestation and schedule a monitoring plan to make sure they never come back to your property again. Call us today.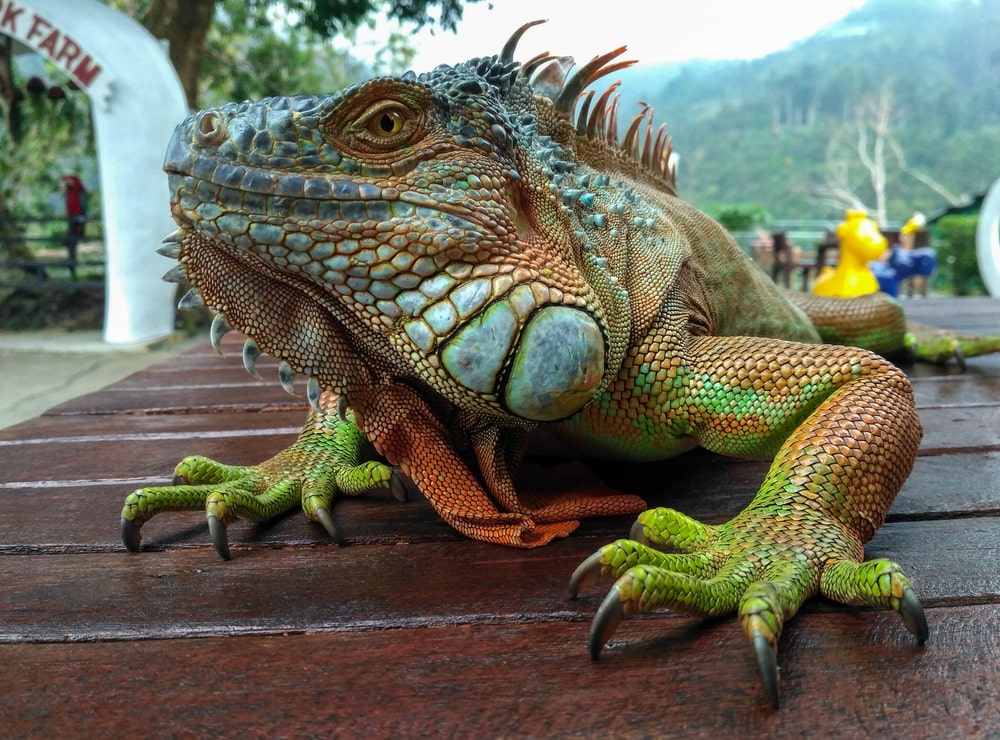 FAQs
Why Do Iguanas Like My Tamarac, Florida Yard So Much?
Iguanas establish themselves in properties where they can find plenty of food and places to lay their eggs. If you have fruits and flowers such as roses, hibiscus, or orchids in your landscaping, you are offering a veritable buffet that they cannot resist. Also, if you have trees this nuisance wildlife can climb up on and reach other structures such as your roof, you are offering them a place where they can burrow and lay their eggs.
Why Is It Necessary to Remove These Pests?
Iguanas are very capable of causing expensive damage to your home in Tamarac by burrowing in unexpected places such as your roof. They can also eat your vegetation and destroy your precious landscaping, make holes in your yard and weaken the seawall by digging into it. They also transmit diseases such as salmonella that can affect you and your loved ones. They are a pest that needs to be taken care of by a professional who can provide services to end this problem in Tamarac.
How Can I Make My Tamarac, FL Garden Less Inviting?
There are actions you can take to get rid of these reptiles or keep them from coming into your Tamarac yard in the first place. Remove any vegetation that they may like to eat and place fencing around the bottom of trees to prevent them from climbing. Cover your favorite plants and flowers with wire mesh to stop iguanas from eating your precious landscaping, and keep your lawn clean and trimmed.
This means no composting piles or fruits that fall to the ground and are left to rot there. Installing wind chimes may serve as a deterrent since they do not like loud noises. This means that when you spot one in your yard you can scare it away by banging on something or yelling.
Never leave food unattended and make sure all outdoor garbage cans are tightly closed so that they will not find any food on your Tamarac, FL property. If you see any holes, fill them in right away.
We're ready to answer all of your questions regarding your iguana control needs.