Iguana Control

, Trapping & Removal Services
Commercial or Residential, Iguana Control has the answers.
Still seeing lots of iguanas on your lawn even after taking steps to iguana-proof your yard? If you're ready to truly tackle your iguana problem, it's time to call in the professionals. We're here to help. Reach out to us today to get your free quote on iguana removal services.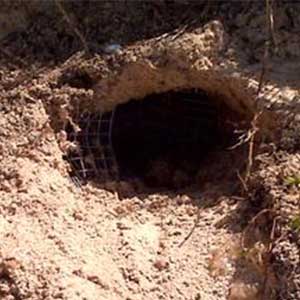 We also monitor your property to remove any holes which are used for hatchlings. These holes are usually dug near sea walls and eventually undermine the seawalls causing tens of thousands of dollars in damage. We advise how to maintain certain trees so not to allow iguanas to have an easy access to the roof of your home/building. They will naturally claw and search for holes or crevices thus causing damage to your roof.
As a last resort we will trap the persistent iguana who is stubborn. Over 95% of our service is preventive. These measures are so effective at reducing iguana populations, we rarely trap.
We can protect any topography. For example, this is property which is almost one mile in circumference and several hundred feet high yet we are able to protect it with our products and monitoring. When we first treated this property, it had dozens and dozens of iguana nests. Now it is under control and free of the network of tunnels it once had.
All installers are trained in the efficient application of our products. They look for indicators of the presence of iguanas and will treat the area. Our products blend well with many existing landscape themes.
We're ready to answer all of your questions regarding your iguana control needs.